Are you looking for highly-paid finance career options but you don't have any idea where to start from? It is a rapidly-growing industry that offers endless job opportunities and continuous career growth.
Read the article to learn how to start a successful finance career, even though you don't have a finance degree.
With the evolution of the finance sector, career opportunities in the finance industry have exponentially shot up in the past few years and continue to mount up in the forthcoming years, making it one of the popular career choices among the aspirants longing to explore this challenging but exciting sector.
Do you know that financial analysts are among the best professionals in the market?
According to the U.S. Bureau of Labor Statistics, financial analysts with a typical bachelor degree managed to earn around 83000$ per year in 2020. And in the upcoming years, the demand for finance professionals will steadily increase.
The finance sector is vast, stretched far beyond the banking sector to venture capital, insurance, asset management, private equity, risk management, and multiple areas.
It is one of the most dynamic industries, comprising the most important sectors that are core pillars of a nation's economy.In addition to handsomely contributing to the nation's economy, the finance sector also provides financial services to individuals and organizations.
Furthermore, the advancement in technologies, expansion of financial services, business-friendly statutes, digitalization, have given a facelift to this industry. Thus, with incessant expansion in various domains, the demand for finance professionals is booming in the current era.
Before we converse about the career options, let's have a look at the financial services first.
What is the finance industry?
Generally, the finance sector is divided mainly into three categories – "personal, corporate, public finance". These are a few services that come under the finance sector:
Banking
Insurance
Wealth management
Mutual funds
Stock market
The finance industry is an umbrella term for multiple industries that deal with the money movement, investments, capital management, and many more sectors that are critical to run the organizations and economy as well.
It includes sectors such as banks, insurance, investment, credit, loan, and various kinds of non-banking organizations.
How to step into the finance industry?
An academic degree is a plus!
Enroll in an Internship program for hands-on learning
Keep abreast yourself with the market trends
Know the finance market's language
1. An academic degree is a big plus
The business schools — now you can enroll in online certification programs offered by prominent institutes from the comfort of your home — assist graduates to learn the fundamental principles of business administration so you can master yourself with the concept of finance.
Needless to say, an academic degree is essential in securing better jobs. You can jump straight through to the higher position in an organization with an excellent academic record.
Though, having a college degree doesn't guarantee you land a decent job, the mention of an academic degree in your resume will certainly increase the chances of your resume getting seen, moreover, it is the first skill they will see to proceed further.
2. Enroll in an Internship program for hands-on learning
The best thing is that, even if you don't have the required background to start a career in finance, the door for this domain is still open. One can work without obtaining a master or bachelor degree in management and business.
You can find a plethora of internship programs that are easy to get where you can enroll and get hands-on learning and gain the required skills for a finance job role.
What's more, with a part-time internship you can learn, at the same time, it can be a medium of your side-income without making changes to your daily routine. Also, it helps you connect with a network of professionals.
In addition to this, you can also enroll in a training program created for professionals who brush up their skills further. They also provide a perk of a certificate upon completion of the short-term training program that will help you kickstart your career as a financial analyst.
3. Keep abreast yourself with the financial services industry
The finance sector includes banks, investment firms, finance companies, real-estate agencies, credit card companies, stock brokerages, insurance companies, and various different kinds of organizations.
It's a dynamic industry that goes through continuous change, thus determining the job trends and career opportunities. Also, the job opportunities and payout differ from one sector to another within the finance domain.
According to a report published by Insiders hows financial services will see exponential growth, followed by fintech firms and technology, media, and telecommunications.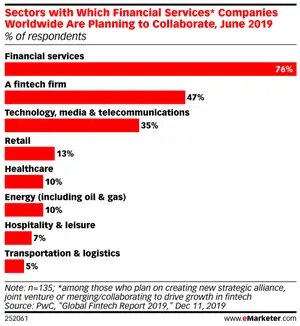 Finance services encompass wide-ranging services from money management to banking services.
4. Learn the financial language
Every industry has its puzzling terms or languages used to communicate effectively. Familiarizing yourself with financial terminology and technical jargon used in the finance market is key to succeed in this field. In order to learn financial terms, you can start your own blog from where you can share your finance ideas with others. The importance of good writing can also increase your chances to get hired.
A world of Endless opportunities
A career in finance can be your dream profession if you love playing mathematics, deeply know the markets. It is continuously expanding across the globe, so are endless chances and high demand for finance professionals.
The finance industry offers you a wide range of jobs and highly paid career opportunities. And with the rising number of services entering the market, it continues to add more career options.
Though having a finance degree is a big plus to kick start your career in this dynamic and ever-changing industry, using the above-mentioned ideas will help you step into this industry.
Success in finance is more than owning a college degree. You must understand the technical jargon, finance market, and fundamentals of business and management that are sufficient for a successful journey to the world of finance.
Keeping the market trends into account and digitalization of the market, the career opportunities for this domain will continue to grow.