Video Conferencing apps and services have become an indispensable part of our lives in the light of the COVID-19 Pandemic. With the economy slowing down aggressively and the need for business to stay connected and keep the work going, a need for more wholesome, affordable, and feature-rich conferencing service arose.
Many companies responded to the need of the hour. Google whose Google Meet was earlier a premium service made it free for users to schedule small meetings. Zoom came out in a big way, becoming a staple for employees, students, and small business owners. Since the beginning of the global lockdown, many new apps and services have come a long way, providing some of the best conferencing services with cutting-edge tech, affordable prices, and a load of features making it accessible for everyone.
Web conferencing services
Most of us now know by experience what a web conferencing service is. It is a software that allows multiple people to connect on online meetings via the internet. You can conduct virtual meetings using VoIP, online video, instant messaging, file sharing, and screen sharing.
To compare various conferencing software out there, keep in mind the list of following factors:
Quality of Audio and Video
Multiple-device support
Easy-to-use interface
Screen Sharing option
Chat features
Meeting recordings
File sharing options
Security and privacy
We have compiled a list of the top web and video conferencing software which will help you sail through the pandemic effortlessly.
1. Zoom Meetings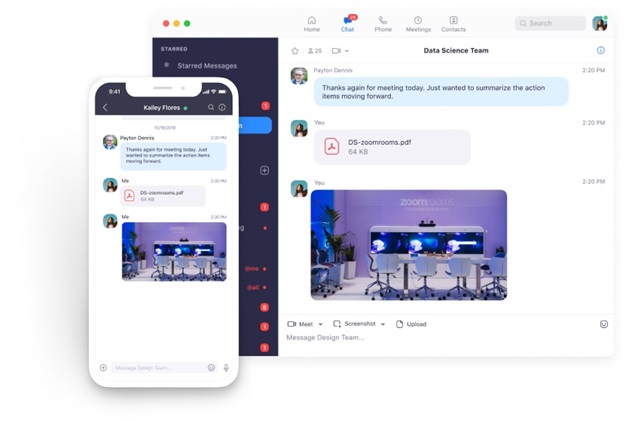 Zoom offers a video conferencing and messaging solution for desktop and mobile devices. It aims to create a platform that is quick and easy to setup. With Zoom, you can expect a wide array of features that are free to use.
Zoom supports HD video and audio, collaboration tools, chat functionality, and an enterprise cloud phone system. However, the most impressive thing about the software is that it can host up to 1000 participants in a single meeting. It also displays 49 videos on a single screen. Though on smaller screens, it is best to display lesser no. of screens, unless you have big-screen monitors.
Some of its other features are:
Meeting recordings (locally and on the cloud)
Screen sharing
Enables File sharing
Searchable chat history (with a ten-year archive)
256-bit TLS encryption for both meetings and shared files
2. Google Meet
Google has made Google Meet available to the public for free. It has been a considerate step, allowing people to connect more easily. Earlier known as Hangouts Meet, it has quickly become one of the most used conferencing software.
It allows the ease to connect and create meetings where participants can simply join via calendar event or email invite from a computer, phone, or conference room. Its HD audio and video support are just amazing and top-notch. It allows up to 100 users to connect at a time. It also has a screen sharing option.
However, Google Meet is not feature savvy. It does not allow meeting recordings or file-sharing options. Its chat options are also very limited. However, the intention of Google Meet is not to create a platform that is robust and feature-rich. Rather, it aims to provide a quick and really fast platform to host smaller meetings and it does it quite remarkably. There is no need to download separate software.
3. Microsoft Teams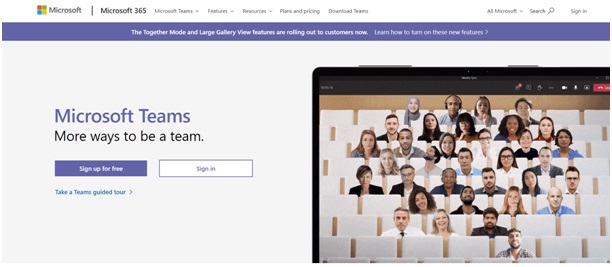 Microsoft Teams is perhaps the most robust software on this list. It successfully combines the power of web conferencing software with team collaboration tools. Microsoft has developed it as a one-stop solution, that can be fully integrated with Microsoft-365. This enables you to leverage tools and data stored on other Microsoft applications, send invites, schedule audio and video meetings from with a single person or a team, where guests can join the meeting using their browser without downloading any software.
It allows the admins to schedule large meetings and webinars that can host up to 10,000 participants. Some of its amazing features are:
Microsoft 365 integration
Screen sharing
Call recording
Live captions
Background blur technology
Chat functionalities
4. GoToMeeting
Powered by LogMeIn, GoToMeetings is an amazing web conferencing service. It is majorly aimed at providing a mobile friendly experience. You can easily schedule a meeting using your smartphone and send invites with a single click.
There are separate apps for both android and iOS. The service is not free to use, but offers almost all the standard features with its basic plan. As you move up to higher priced plans, you it increases the number of attendees and a few advance features. But its most basic plan also pretty much covers it all.
If in future you look to upgrade to a VoIP based solution, then you can upgrade to that as well, which let you integrate GoToMeetings as a part of the package and offers a cloud based phone system.
5. BlueJeans Meetings
BlueJeans is a unified communications system which offers a cloud-based web conferencing software that can be integrated with mobile or browser. With BlueJeans, you get various collaboration features and easy integration with multiple applications.
BlueJeans doesn't offer a free tier but offers a 30-day free trial instead.The standard plan can accommodate upto 50 members and meetings can be accessed from any computer, iOS or Android device and all meetings include dial-in numbers. As you move up to more premium plans, the features, numbers of attendees and security system keeps enhancing.
6. TeamViewer
TeamViewer is a powerful system of software that allows to remotely manage other systems, connect online and offers online collaborations tools. You get access to fully integrated online conference solutions for audio and video communication.
However, TeamViewer is specially amazing for remote management and screen sharing. Some of its features are:
Mobile device access
Remote Device Monitoring
Flexible File Sharing
Cross-platform
Mobile Working
Endpoint protection
Global Video Collaboration
Conclusion
There is no scarcity of web conferencing tools out there right now. You can try free trials and use free versions for testing purposes. See the scale of your business and operations, see how much functionality you need and how much aesthetics you wish to have.
Gauge your own need and arrive at a platform that suits you best. We have aimed to bring forth some of the best and widely used web conferencing tools. We hope you make an informed decision and make use of the tools to their best of capability.